SKATEBOARDERS ARE CHANGEMAKERS - TOUR EUROPE
3 Skateboarders from Janwaar and Kovalam, Ramkesh,10, Arun,14 and Sujin, 16 were selected to travel to 5 countries in Europe. The whole idea behind the trip was to have the kids head out of their familiar settings into discovering different cultures, food, surroundings etc in a new environment while also discovering the local skateboarding scenes of Europe. Coming from very interior parts of the country where sometimes even electricity is a problem, Europe would be a drastically different experience. There were a lot of "first times" for all the three kids. "I thought this trip will give these three kids the chance to become even better changemakers and empower them to take a lead and guide other kids on their ways. To explore new territories and to push your own boundaries are part of this process. And this is what we've been doing during the trip" - Ulrike Reinhard (A German publisher, author and futurist who has started Rural Changemakers in a village called Janwaar to bring around transformational change on a huge scale in rural areas. ) Decathlon, Oxelo was very happy to be a part of this journey and wishes these very bright and talented kids all the best for all their endeavours and dreams.
3200 km, 5 Countries, 5 Weeks
THE JOURNEY
HEIDELBERG
Heidelberg, world-renowned for its beauty and idyllic setting on the river Neckar was the first stop. What made the city more special was that it was the hometown of Ulrike. The kids were obviously excited to see where she came from. It didn't take the kids very long to feel at home, they got used to the new environment. They overcame jet lag but felt surprised and challenged by the food. "What the heck is this!" was a common expression. They got bicycles from a friend of Ulrike to roam around in the city. They easily found their way to the skatepark, a beautiful one built under a bridge next to the Neckar river. They learned which bridges to take to reach there, where to get candies and Indian food.
BERLIN

In a rental car, the entire gang drove to Berlin - 630 km within six hours. In Berlin, the location was perfect for the kids - a train wagon transformed into a bedroom at Mellowpark which is also a skateboarding campus with four big skateparks, a basketball court and a BMX race track. The kids got BMX bikes and started to learn the new sport – full of excitement. The Rural Changemakers also visited the most famous skateboarding spot in Berlin – The Kulturforum. The courtyard of the museum was designed as a big slope. In addition, it has stairs, high and low pedestals, rails etc. The gang shredded the space. "Decathlon had organized an event for the Changemakers at their megastore at Berlin-Alexanderplatz. Arun gave a talk in Hindi and told his story. Then Decathlon unveiled the limited Janwaar Castle Skateboard Edition. A big moment. The kids were very proud to have their own board label now! Of course, a big thing!" - Ulrike Before heading out of Berlin, the kids explored many other skateparks and were able to have an interaction with the local skateboarding scene. The "dogshit" park became their favourite!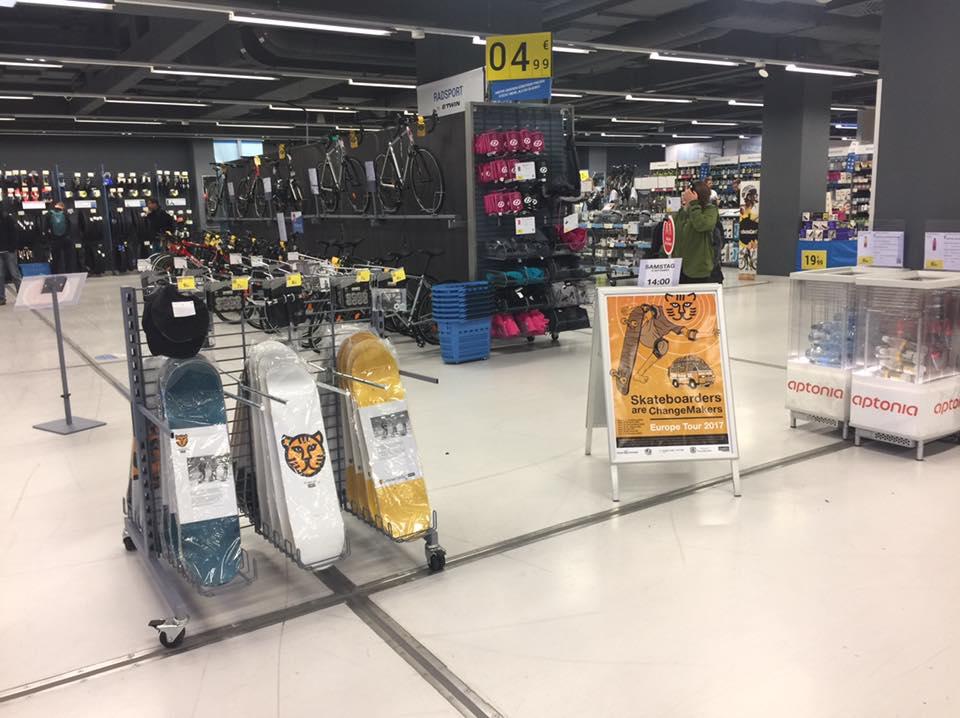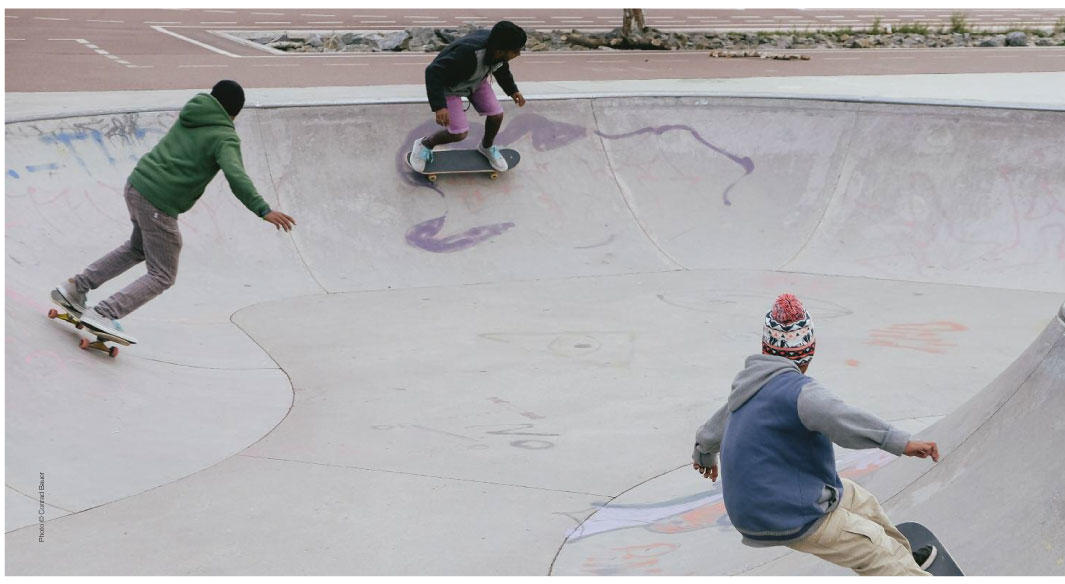 GUMMERSBACH
Getting to Gummersback was a bit of a challenge with the bus being overbooked, running 5 hours late and stops in Cologne were far from the city centre. So by the time they finally reached, no city trains or buses were running. it was too late. However, Jean Phillipe from Decathlon was waiting for them to arrive and dropped them off safely to their Airbnb. Next morning, they were able to sleep longer and enjoy a delicious breakfast before they took the regional train to Gummersbach.
At Gummersbach, they met the architect who had designed the skatepark at Janwaar. "At the youth centre in Gummersbach, he had built a new park including a bowl! It was a nice ride for the kids. The barbecue after the session was highly appreciated and the kids had for their first time a (chicken) Bratwurst! And they liked it!" - Ulrike Next morning they left very early for Antwerp.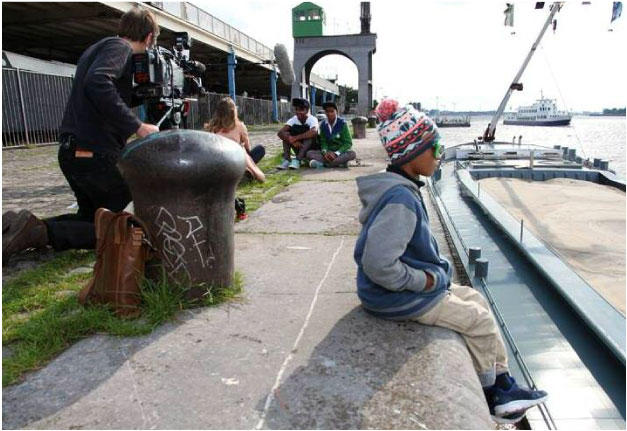 ANTWERP - BELGIUM
Antwerp, although unusually cold for mid-September, things went perfectly right from the first minute. Jaqueline, the manager at their hotel seemed rather curious about what they were up to and on hearing their story couldn't believe it. She really took care of them and made them feel at home. "The kids loved it – especially the plenty croissants for breakfast!" - Ulrike Next to the river Schelde, was a huge skatepark where the "Antwerp Skate Contest" took place. The Rural Changemakers were the guests of honour to inaugurate the event. They even received cool new skateboards from the major. Ulrike remembers the day with sunny blue skies and the kids, Sujin and Arun answering questions of the journalists in English. It was quite an experience to later see their faces on Belgium TV - a very proud moment. "The Rural Changemakers were drawn into the contest. They hardly skateboarded by themselves but they watched intensely and were amazed by the quality they saw. Arun said: "I thought I am a good skateboarder. But when I see them, I know that there is way more to learn!" - Ulrike
DECATHLON HEADQUARTERS, LILLE
"Decathlon was one of our best travel companions – they really supported us in the best possible way. And no, I am not talking about money and hardware, I really appreciate the mindset of these people and the way how they support us. They truly understand our project and work and its social impact and they are happy to see what skateboarding can do. Thank you Jean-Phillippe and thank you to your entire team! In Lille, our Rural Changemakers had the chance to look behind the scenes and visit the Decathlon labs. They learned how to test skateboards and other sports equipment, they were amazed by the way the people took care of their tools and they realized that Decathlon is much much more than skateboarding. The headquarter includes huge office space, I think 1000 people are working there, it has a huge store – all around the bicycle – and they have huge areas for sports activities. Ramkesh, Arun and Sujin had the great pleasure to inaugurate their mini ramp the day we visited. It was a huge party and all the skateboarders from Lille came in the evening to drop the ramp. And the kids among them! Inbetween skateboarding, food and drinks all of us watched the video which Decathlon and Blam Studio did last year for our Skateboarding Challenge in Janwaar. It was great fun!
Decathlon Headquarters Lille!" - Ulrike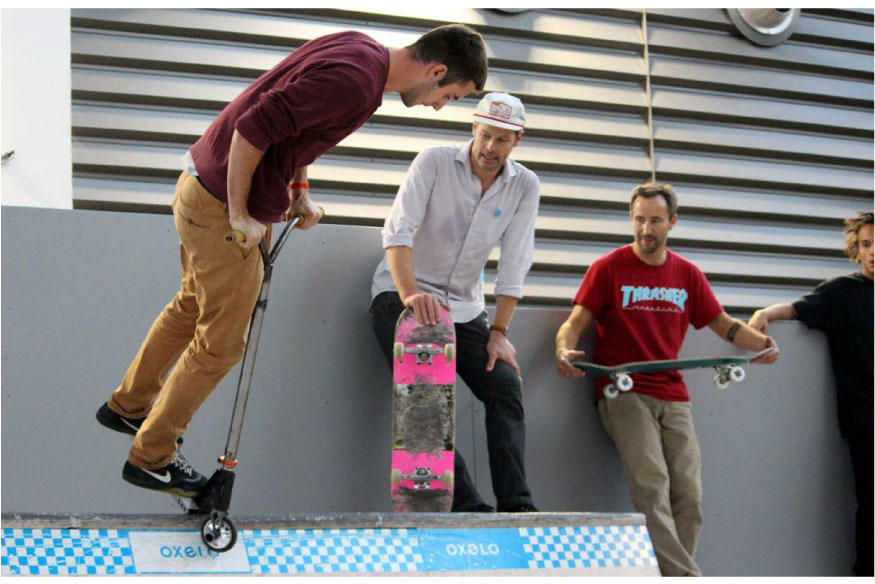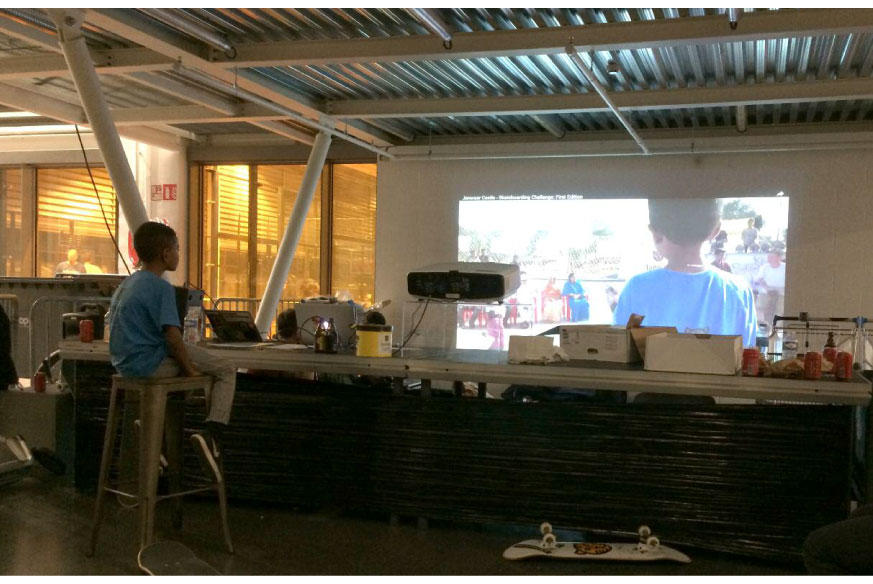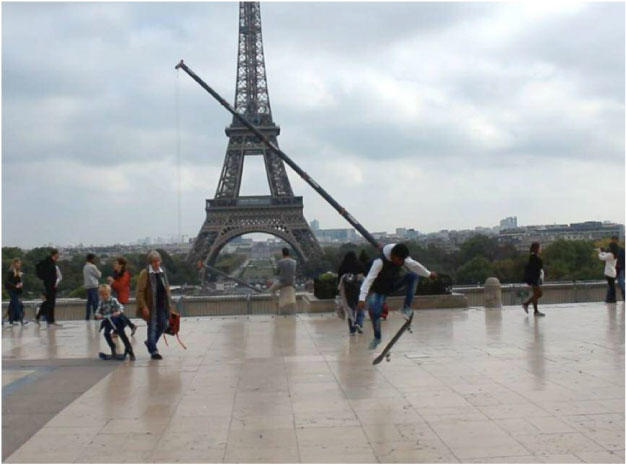 PARIS
Paris was special - Sujin and Ulrike celebrated their common birthday at the Eiffel Tower. Approaching the tower from La Trocadero gave them the advantage of having the tower right in front which was also a lovely skateboarding spot. They really explored the city by skateboards, not a common experience in our country for sure. Ulrike then recalls being picked up by Jerome and the wonderful Choko, France's most popular, "skateboarding watchdog." "This dog had a temper of a lovely elephant, nothing is stretching his nerves and he lives his happy life without any rules. Loved by everyone. He really added to our tour something special. So did Jerome. Jerome, being a well-known skateboarder himself, knows every skatepark and all the skateboarders in Southern France. He opened the doors for us at Darwin Skatepark, a DIY space, in Bordeaux, he introduced us to the Magenta skateboarder Sebdo Daurel (Sebdo Show) and he got us into Rekiem and Volcom in Anglet. In short: skateboarding heaven and plenty of experiences first hand" - Ulrike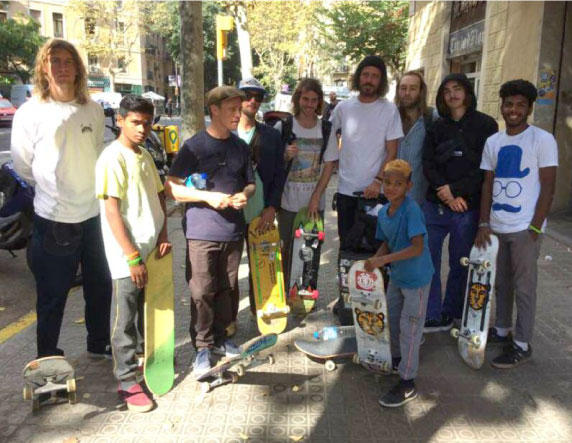 BARCELONA

In Barcelona, they finally had great weather with sunshine and warmth but it had been a long trip and tiredness had begun setting in. The Rural Changemakers were now ready to go home.
"The kids' enthusiasm had peaked and they were counting the days until departure. Nevertheless, we had a lot of fun. Without any doubt, Barcelona is the world's hotspot in skateboarding. The best skateboarders practice there regularly." - Ulrike
Staying at the Badalona gave them the advantage of having the beautiful beach right in front of their door. They were able to go out for a couple of swims and cruise along the beach walk with the skateboards.
"This trip was simply incredible. So many things didn't work out. So many new things popped up and made it an even greater experience. It was the effort of a huge network which made all this possible. A huge family & friends community who is sharing the same values and beliefs." - Ulrike
CHECK OUR SKATEBOARDING RANGE
Related tags :