INTRODUCE YOUR CHILD TO STAND-UP PADDLING
Are your children looking at you from the shore with envy as you link paddle strokes? It may be time to invite them to discover stand-up paddling and the marine environment
How to lead your child through his first SUP experiences?
As you know, any initiation to SUP requires good preparation, especially with children. Your young apprentice must be able to swim and coordinate his/her movements (5 years), be equipped with a life jacket and the right sun protection (sunglasses, hat, even an anti-UV t-shirt). If you have a long board (more than 12 feet, or 3.5-metres long), it's best to place your child on your SUP—as long as she is small—while you are paddling. Through this gentle approach, your little ones can become familiar with the water, feel the pleasures of gliding and try to stand on the board by your side. But how do you get two people on a stand-up paddle board? Ask your child to get closer to the centre of the board so as not to unbalance it, and to lean back on your knees if necessary.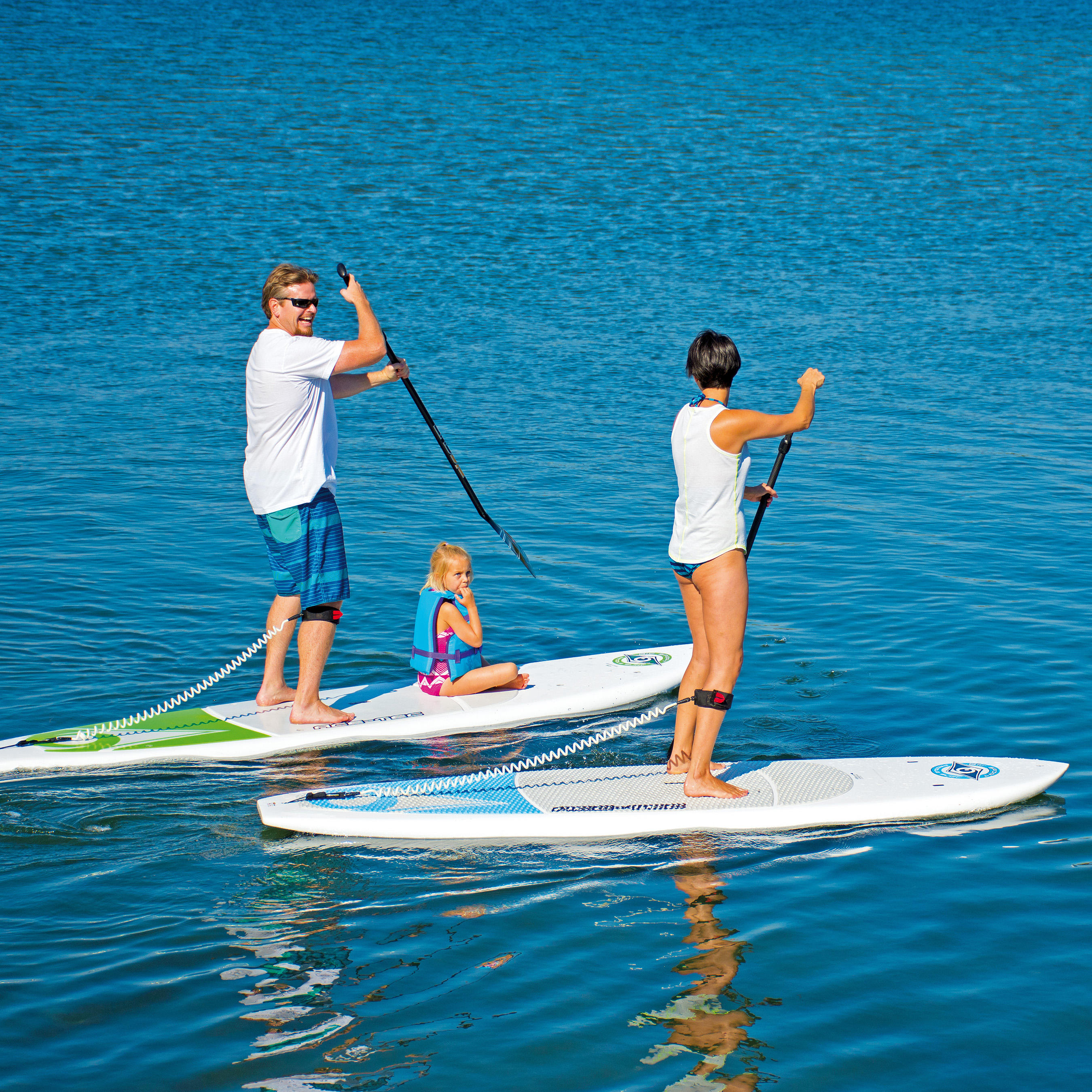 What body of water should you choose to introduce your child to SUP?
For both children and adults, heading to a body of water that is apt for an introduction is crucial. Select a quiet spot, protected from choppy waters and swells and with little current action. Think of lakes and ponds where the water is not too cold and where sandy or pebble beaches can facilitate the launch. If you are thinking of a spot at sea, make sure it is flat and above all without excessive currents. Finally, pay attention to weather conditions: postpone your first SUP outing with your child if it's cold, windy or rainy. This is very important so as not dampen the motivation of your little one before he even sets foot in the water! Itiwit advice: Be careful also about your judgment on the level of challenge of a particular spot! As an experienced paddler, you may find it easy, while a beginner, even more so a child, will encounter many more difficulties than you would.
What gear should you use to facilitate the initiation of young paddlers?
Before leaving the shoreline, take another few minutes to check the marine environment with your child and explain the principles of stand-up paddling. She just can't wait to get in? Let her hit the water for her first paddling alone! But make sure she has a stable beginner board, i.e., one that's wide but not too long or too heavy; otherwise it'll be hard for your child to carry it and manoeuvre it on the water. In this regard, an inflatable SUP would be quite apt! Her paddle also must be perfectly suited to her size. Don't give her your paddle thinking, "it will be fine for an introduction"; even if it is to be used only once, your child's paddle must be suitable to allow her to make efficient movements without the risk of injury. So choose an adjustable paddle or borrow or even hire a child SUP. Let your child paddle to where you touch bottom, and stay with him to give him confidence and advice on his moves. Think about all the paddle outings you will share!
CHECK OUR STAND UP PADDLE RANGE
Related tags :