How To Teach Your Baby To Swim
Planning to teach your child how to swim? Baby Swimming lessons are completely safe and reliable which enables babies to discover and learn about water, thereby helping them and you enjoy swimming in a stress-free manner. Help them discover a whole new world and be there with them when they take their first water steps!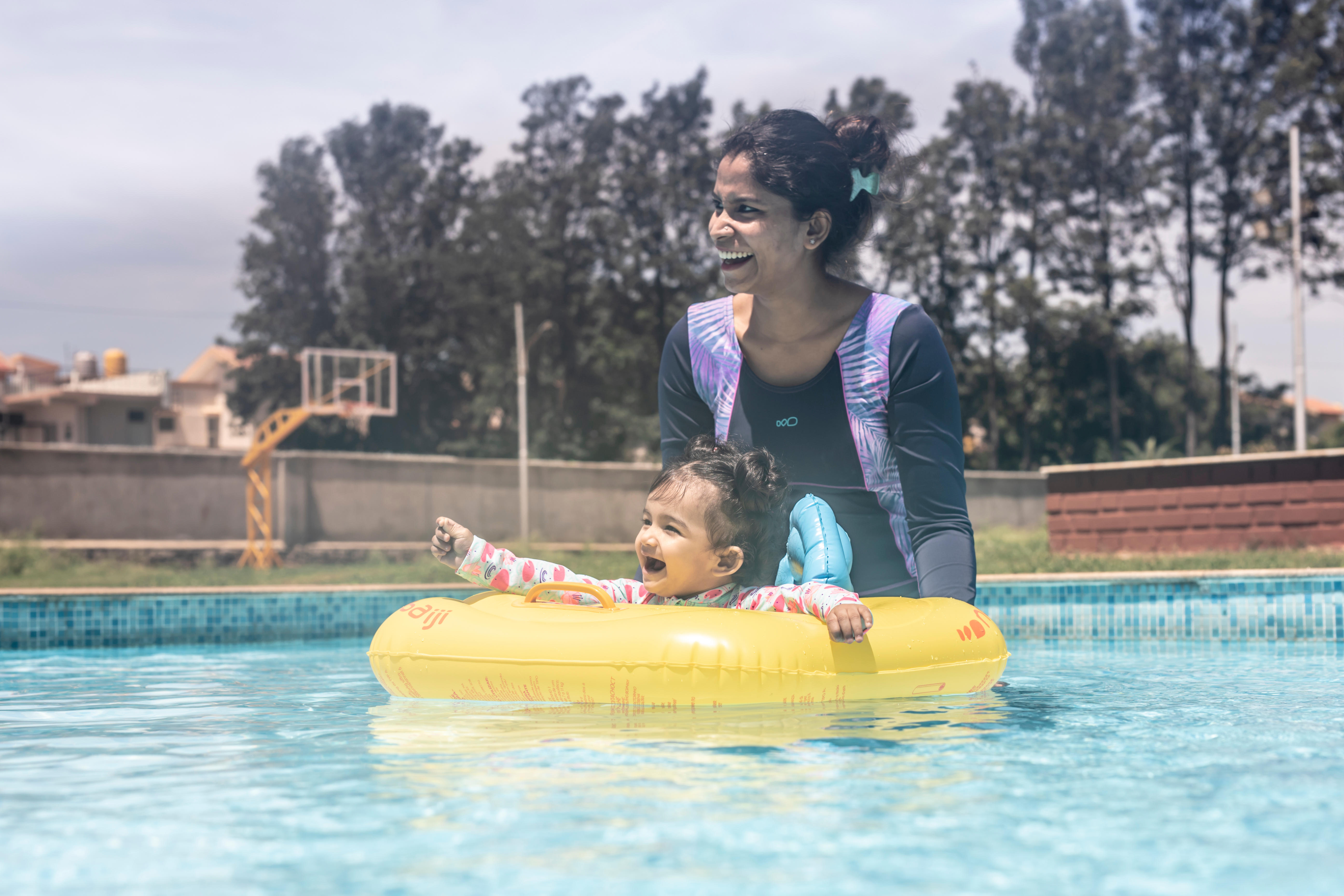 BABY SWIMMING : WHAT IS IT ?
Baby swimming essentially means getting your child accustomed to the aquatic world and helping them take their first steps in water. It enables babies to discover and learn about this new environment. To enable babies to learn, parents and swimming instructors organise and supervise the activities. Baby swimming sessions are held in pools that are warmed specially so that babies do not get cold (and you neither). Your child can play in the water with the kickboards, mats and slides provided by the pool, or you can take your personal ones if like. Baby will be initiated gradually with an instructor. Sessions are adapted to children's psychomotor(movements using conscious mental activity) development, their age and experience. The first stage concentrates on your baby's first contact with the water. Once the baby feels comfortable and more confident, he or she can gradually lie down in the water and then go underwater, while remaining in the hands of the instructor. This is a stress-free step. Once underwater, your baby will automatically hold their breath. These shared sessions with your child are privileged and fun moments. If you are worried about your child going underwater, remember that your baby spent 9 months surrounded by amniotic fluid and is, therefore, a natural.
WHAT DO I NEED TO KNOW ?
First of all, these sessions are very popular and we recommend that you write yourself down as soon as possible (Yes!even before the birth)! If you need to be reassured about the staff, you should know that a Ministerial memo regulates these sessions. This memo mainly regulates staff qualifications (the team should include several professionals who have training in educational and psychomotor methods) and the temperature of the pool: minimum 25°C out of the water and 32°C in the water is maintained. It is not recommended to take children who have respiratory or cardiovascular problems. If you need a hand preparing your baby's bag for swimming lessons, Nabaiji has prepared a little list in this article. We also recommend that the babies drink a lot of water before the session, it helps prevent them from spitting up if they accidentally swallow water. Swimming nappies are usually required for these sessions, to avoid accidents... Finally, remember to bring a snack for the children and yourself, swimming will make you hungry!
CHECK OUR RANGE OF BABY SWIMMING PRODUCTS
Related tags :