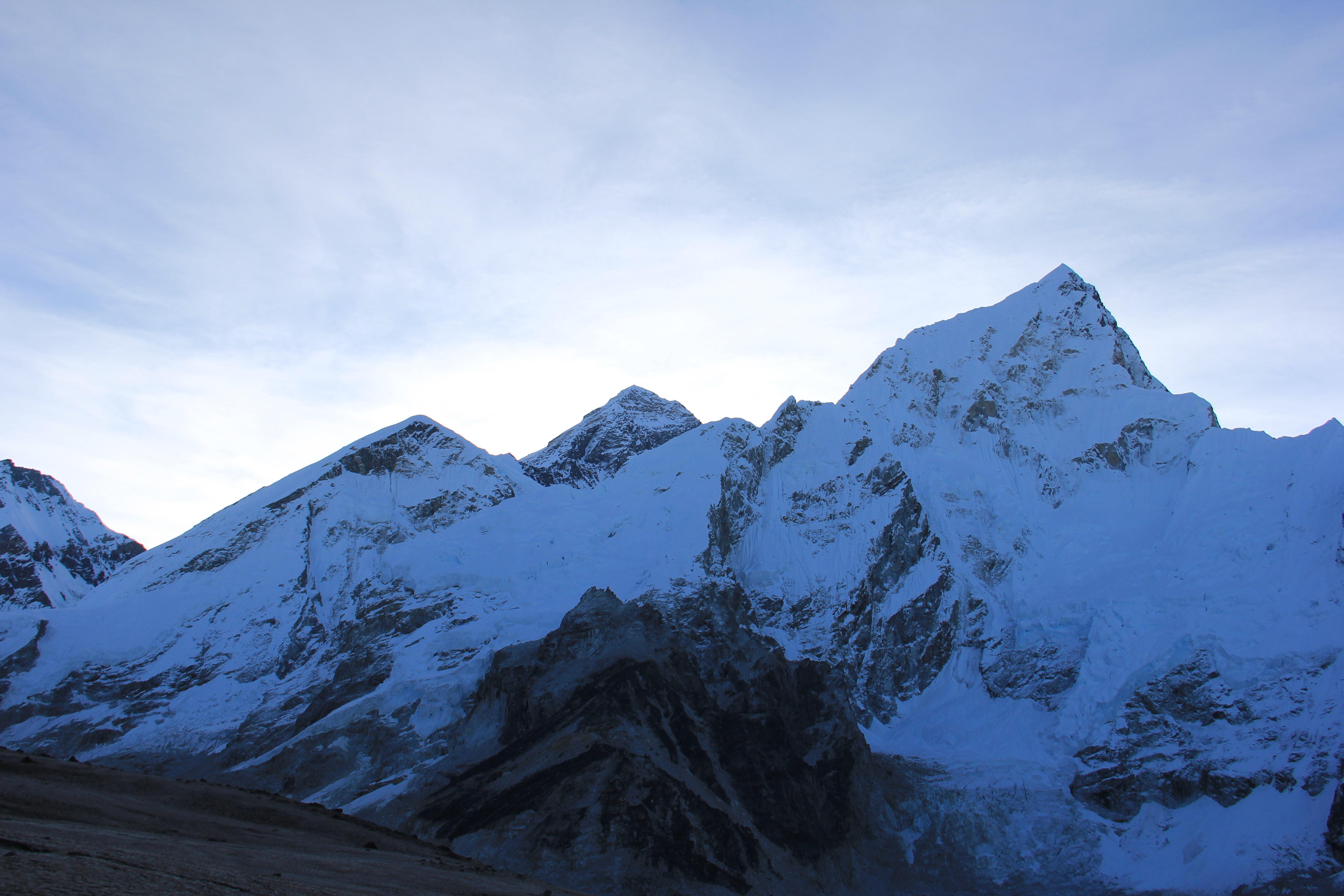 DHAVAL CHOKSI ON EVEREST BASE CAMP VIA GOKYO RI - THINGS NO ONE TELLS YOU
I ended up opting for EBC With GOKYO RI and Chola Pass which consist of 16 days of trekking and 5 days buffer.
Dhaval Choksi
Businessman
Dhaval is a 31-year-old resident of Navsari, a place near dang-mahal and various campsites in Gujarat and Maharashtra border. He's been associated with his family business of Jewellery. "I've been inclined toward sports from a very young age, since my school days and was always up for any kind of adventure sports and physical activities!"
FOLLOW DHAVAL
My first trekking experience was at the age of 12
Then for a couple of years, I had a fantastic chance to explore the trekking culture with the Youth Hostel program in the Northern part of India and even in Dang. Certain Treks have been on my list since forever. For example; Zanskar River Trek (Chadar Trek), Annapurna Base Camp, Everest Base Camp, various trails in Iceland such as Vatnajokull, Landmannalauger etc. I decided on the Everest Base Camp for 1st Jan 2018 considering I achieve my endurance level, optimum for Everest region by the stipulated time. I ended up opting for EBC With GOKYO RI and Chola Pass which consist of 16 days of trekking and 5 days buffer. I generally love the mountains and I've been madly in love with the Himalayas since my first trip to Manali at the age of 14. I was able to finally take the decision on EBC mainly for 2 personal reasons.' 1. The Everest region is the highest in the world with a moderate difficulty level. 2. Within me, there was a feeling, a gut feeling you can say that if not 2018, then I will never be able to do it ever again (worrying about my low endurance and physical fitness) + a bonus point, my underlying love for Himalaya always drives my call.

I could finally leave for EBC via Gokyo Ri and Chola Pass on 14th September 2018
Initially, I planned for May but I wasn't able to qualify in my fitness level. I could finally leave for EBC and Gokyo Ri and Chola Pass on 14th September 2018. I generally plan my treks or even trips a little before the actual season starts just to avoid the crowds. Lukhla, a tiny town of fewer than 500 people is the most popular starting point for the Everest trekking route. Flying here from Katmandu is an essential part of the adventure for most trekkers. The Lukhla Airport is termed as the worlds most dangerous airport and flights tend to get cancelled at any moment due to cloud situations. You need to have contingency days just for the flight. I had 4 buffer days in total and all had been exhausted due to cancellations of flights both ways. Friends ditching you for a trip is a normal phenomenon which led me to trekkingpartners.com. Luckily I found a partner that shared the same dates, same trek and even the same perception for the trek. We collectively went through various companies before finalizing on highcamptrekking.com. Nosarng (the owner of the company) joined us with his Poster Pashan. Both of them were humble, helpful and amazing people to share a trek with. I stayed in Thamel in Katmandu for a couple of days before the Trek started. Thamel is a tourist area with all sorts of restaurants, lounges, casinos, and attractions. You have access to all possible equipment for hiking and mountaineering for rent. But I would suggest you buy basic products in advance like shoes, poles, tracks, jumpers, poncho, thermals, sunscreen, 30-40l day bag, and a few more other necessities. I am certain, you just need one outing to Decathlon to gather all your equipment.
DAY-WISE ASCEND TO EBC VIA GOKYO RI AND CHOLA PASS;
DAY 1
We reach Katmandu Airport early at 6:30 am and was there till noon, waiting for our flight to take off but due to cloud conditions at Lukla Airport, only the first flight of the day took off and the rest all got cancelled. Note: Once flights get canceled, the price of a Helicopter ride to Lukla starts reaching the sky (quite literally). The locals take this opportunity and charge as high as 600 USD for a one-way helicopter. The worst part is that once your flight gets canceled, you get tickets for2nd phase on the next day. 1st phase -6 am-9 am
2nd phase - 9 am -11:30 am
3rd phase - post 11:30 am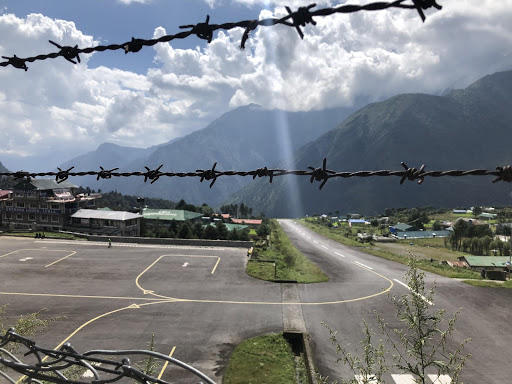 DAY 2
After waiting for 7 hours and negotiating with the crew, our flight timing was 9:30am and took off at 1:15 pm. I finally made it to Lukhla (2840 meters in height) in just 25 minutes. The landing took our breath away - #Whatabeauty! We had a quick lunch and left for Phakding (2610m). It took us around 3 hours 30 mins to reach with a decent trail. Here the sherpas calculate distance in hours and not kms. Note: Always try and book the first flight since it has the highest probability of taking off.
DAY 3
This was an important day for 2 reasons. - One, because we would get our first view of Mt. Everest, Lhotse, and Nuptse. - Second, we had 3 hours of ascending out of our 7 hour Trek toward Namchee Bazaar (3440m) There are two waterfalls in September and a direct view of Mt. Thamserku (6608m) between Tok-Tok and Bengar Village. There is also a suspension bridge over Dudh Koshi to go Munju (2840m) where the Sagarmatha National Park hiking passes check post is. Namchee is base for all the trekkers and climbers.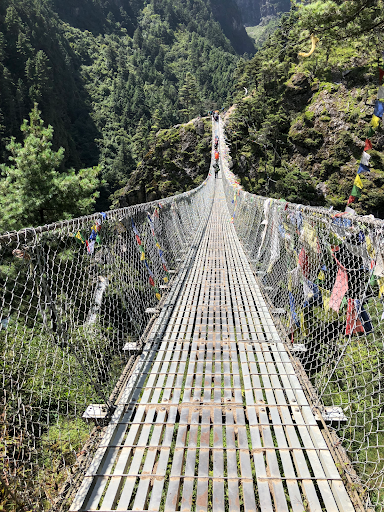 DAY 4
This was our rest day for acclimatization so what we basically do is climb high but stay low. We spent the day with a day trip to the Everest View Hotel (3880m) established by the Japanese. It's an idle place for a tea break with a direct view of Everest, Lhotse, Peak 38, Ama Dablam, Thamserku, Tabuche, Tengboche in the Kumbu valley etc. We also took a trip to Kunde Village and Hillary School and long mane wall and Khumjung monetary for yeti tales. The whole expeditions were 7-8 hours of day trek.
DAY 5
We trekked to Tengboche(3973 M). Once you're above 3500m, you start feeling the difference in breathing and you tend to take a few more breaks than usual. Almost 6-7 hours we took to reach Tengboche and we went straight to attend prayers at the monastery. We stayed at the only cafe in the village. It had the best chocolate cake ever.
DAY 6
Acclimatisation day again. We did a day hike to 5000 m Nangkar Tsang. If you feel okay, you can do a 200-300 m hike also to do the needful to your body. I personally couldn't be there till 5000 m and I definitely regret missing the 6 mountain peak view from Nangkar Tsang, i.e Mt. Lhotse, Ama Dablam, Island Peak, Tabuche Peak, Cholatse Peak and Mt. Makalu (8463m) etc.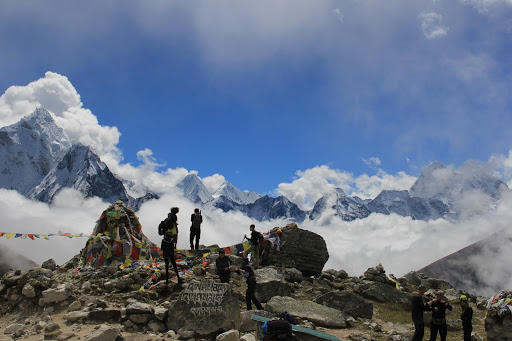 DAY 7
Tengboche to Diboche (4410m) took nearly 6 hours. The terrain was a Nepali flat trail which is essentially a slightly steep trail. It passed through the most beautiful mountain view of Ama Dablam but we also faced difficulty due to the rain but it was worth it.

DAY 8
Dingboche 4410m to Thukla 4620m was 3hrs.A short steep climb up to Chorten (view of Mt. Makalu). Then, Nepali flat walk to Thukla about 2-3hrs along Khumbu valley. We went high and sleep low for acclimatization training in the afternoon. You shouldn't skip this else next couple of days will be harder.

DAY 9
Thukla to Labuche 4910m took us 2hrs. You come across a memorial for famous mountaineers who died on these peaks.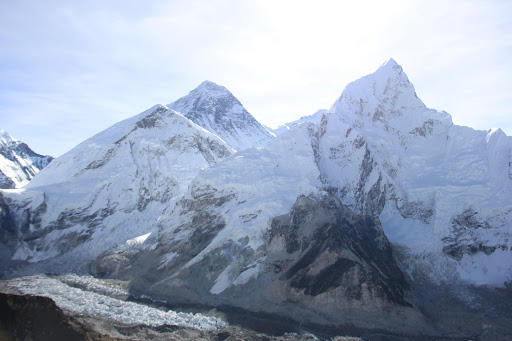 DAY 10
The day had finally arrived when we were going to touch Everest Base camp (5364m). It included 8 hours of ascending and descending in the rocky trail via Gorakshep (5180m). We had lunch at the tea house and proceeded to reach Everest Base Camp. The experience was #Outoftheworld. Make sure you're one of the earlier ones since there are only 4 tea houses in Gorakshep with the capacity of merely 120 people at a time. By the way, you cannot see the Everest peak from here but you can see the trail to climb it and if you're lucky then get a chance to speak to the climbers of Mt. Everest. We were though.
DAY 11
From here onwards, we had to start our day at 5 am with almost 10 hours of Trek daily till we reach Namche. We completed Kalapatthar (5545m) in 6 hours and then headed back to Labuche and then to Dzongla. Kalapathhar is more difficult to climb than EBC. But when you reach the peak, you'll feel like you're in the lap of Mt. Pumari. You cannot take your eyes off the unnamed turquoise lake which walk parallel with you. This was one of the few days in our trek where we felt that we were walking above the clouds. We were nearer to Everest and because we started early before sunrise, we could see the sun coming out from Everest. #Insanelybeautiful. On reaching Dzongla, we were completely exhausted and late so we decided to take a day off the next day and cover that later on the 2nd day.
DAY 12
This was a leisure day and we spent it interacting with a German Scientist who happened to be questioning YETI existence. I do believe in their existence though.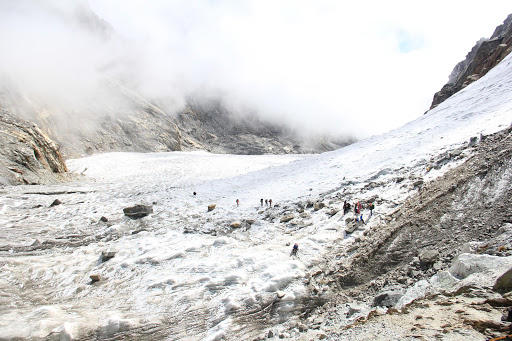 DAY 13
It was time to hit our next milestone. Dzongla to Chola Pass (5420 m) to Gokiyo lake in one day. 12 hours of ascending and slippery trail. We were literally crawling and walking on glaciers just before Chola Pass. This was the best day of our Trek in terms of the variety of trails we covered in a day. It's important to cross Chola Pass before 9:30 or else the clouds or the melting of glaciers would be a major hindrance. Since we had taken a leisure day earlier, we had to make up for it by skipping our stay at Thanka and directly reached Gokyo Lake side. I would call it an Interstellar Trail. We were on a different planet walking through the Ngozumpa Glacier towards the Gokyo Lake.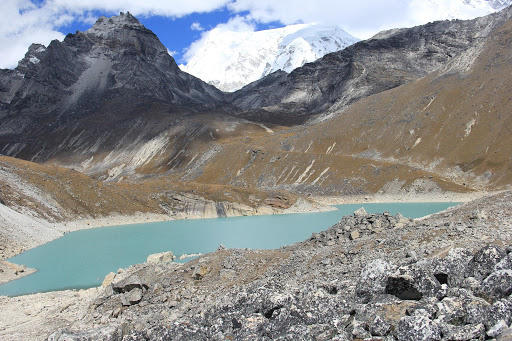 DAY 14
Started early at 7 am and covered Gokyo Lakes 3, 4 and 5. We couldn't do till the 6th because it was 8 hours one way and we had to stay there overnight. The terrain was that of the Nepali Flat Trail again and it took us 7 hours to cover all 3 lakes. If you make it till the 5th, be sure to be treated with a dramatic view of Mt Cho Yu and Everest.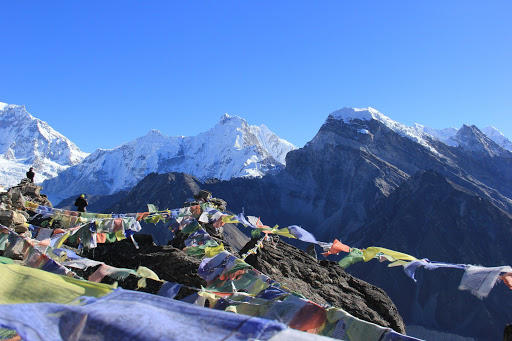 DAY 15
We started really early at 4 am for Gokyo Ri (5357) to see the sunrise from the peak. This is a must for any trekker. It's really worth all the climb and effort. We had a clear view of Everest, Ngozumpa Glacier, Mt Cho Yu and the 3 leakes from the peak. We all didn't really want to go down just yet but we Dole in our agenda which was 5 hours from Gokyo lakeside. It was going to be another day of 11 hours of Trekking. Since we had started descending, we were all quite comfortable with breathing and getting our pace like as if we belonged to the region. We again covered lake no 1, 2, and 3 on our way to Dole (4100M).
DAY 16
Dole to Namchee is another 6-7 hours of descending through the big boulders. You're at peace for sure and even though it might sound counterintuitive but descending drains you more than ascending. Coming out of that region would definitely leave some impact on you. I can say that I truly belong to Sagarmatha. We reached Namchee and stayed at the same hotel while flaunting our achievements of covering all the peaks without any hiccups . #trulyblessed.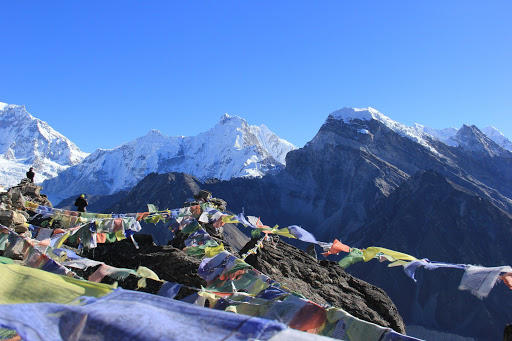 DAY 17
We started really early at 4 am for Gokyo Ri (5357) to see the sunrise from the peak. This is a must for any trekker. It's really worth all the climb and effort. We had a clear view of Everest, Ngozumpa Glacier, Mt Cho Yu and the 3 leakes from the peak. We all didn't really want to go down just yet but we Dole in our agenda which was 5 hours from Gokyo lakeside. It was going to be another day of 11 hours of Trekking. Since we had started descending, we were all quite comfortable with breathing and getting our pace like as if we belonged to the region. We again covered lake no 1, 2, and 3 on our way to Dole (4100M).
DAY 18
We waited the entire day for our flight and after our boarding was done, the flight got canceled. So we had to stay over.

DAY 19
We were pretty much stuck in our hotel room with a view waiting for our turn to go to the airport. The weather was kind and we were able to board our flight at 9 am which was earlier scheduled at 6:30 am. With the help of our resort owner, we were able to manage to get the first phase flight because I had a flight to India on the same day. We were truly blessed to not have any disruption throughout the trek. We met quite a few people who were stuck with flight delays for almost 4 days and they opted for the road route which took about 3 days of extra trekking.

BASIC TIPS TO SURVIVE EBC;
- Drink as much water as you can
- Work on your endurance level and breathing.
- Know your body and feel the reaction of yourself, if you neglect any signs then you might have to descend before you anticipated.
- Buy insurance which covers medical help and helicopter evacuation if required and beware of the insurance scam.
- Always start early around 6 am to reach the next place by noon.
- With a limited supply of tea houses when you go up you have to reach as early as possible before trekkers start pouring in. Generally, porters go before the hikers but if you are solo traveling than you wouldn't want to get into a struggle to get a place to stay.
- Do good foot works especially over the rocks, snow/ice, and muddy and downhill walk.
- Do not be emotional. Sherpa 's have a saying that bad weather comes from someone being emotional.
- Before you attempt a trek of this intensity, prepare yourself with cardio and at least 15kms of running daily for 2 months. This will help you enhance your fitness level.
- Don't worry about cooking since tea houses are already equipped with food.
- Sometimes if there's no place to stay, teahouses offer tents within their premises.
- They call dal-bhaat a power meal and trust me it is.
- Check your oxygen twice a day
- Shoes and water bottles are the most important
- Mind your feet even though you're probably distracted by the beauty
- Be vegetarian: Be aware that all meat is carried up by porters from below Lukla due to the no-killing policy in the Everest region (Sagarmatha National Park). So by the time you have it, it's getting old. The safest, healthiest option is vegetarian. - Flights to and from Lukla is unreliable due to weather permissions time to time so be prepared for that
COSTS AND FINANCES
The costs include; 1. Air tickets to Lukla
2. Sagarmatha National Park Fees (Almost all government monument fees are different for SAARC nationals and Nepalese and Foreign Travellers.
3. I opted for a package trek so didn't have to bother about the tea houses, accommodation or food.
4. You have to pay for hot water and wifi, charging ports, beverages or anything extra.
5. The higher you go, everything gets expensive. (Example - A bucket of hot water may cost 1000 Nepali rs at Gokyo or Gorakshep but 300 Nepali rs at Phaklding. The prices may vary as per the demand. The total cost for the trip was around 1.35 lakhs which includes breakfast and 2 meals in a day for all 20 days + accommodation in Katmandu, flight tickets from India to KTM (economy) and equipment (Jackets, poles, shoes, bags etc) Most of my gear, I ordered on decathlon.in except the sleeping bag and the winter jacket which I rented in Katmandu.

GEAR AND EQUIPMENT
Mid-September is a good time for Gokyo Lake via EBC trip. You can walk around with a long t-shirt when it's sunny under ofcourse 3500m. When the sun is down, it gets cold and the temperatures get colder as you go higher in the high altitude. It can go down to -5-degree Celsius at midnight above 4500m. I suggest you pack the following trekking equipment; - FOR YOUR FEET - Strong, comfortable high ankle trekking boot/shoes with a good sole and grip that should be large enough to allow one to two layers of heavy cotton/woolen socks. - An extra pair of sandals
- At least four pairs of cotton/woolen socks. Note - If you have a new trekking boot, please use it before you come to Nepal. Microspikes and snow gaiters could be really helpful. - APPAREL - 2 pairs of corduroy trousers
- 1 fleece jacket
- 1 warm down jacket
- 3 T-shirts
- 2 drip-dry t-shirts
- Ski or thermal underwear
- 1 woolen/fleece hat
- Waterproof thick gloves
- 1 water and windproof jacket and trouser - ACCESSORIES - Good quality Sunglasses
- lip balm
- sun scream (50+)
- sun hat
- A light scarf for dust and Sun protection
- Small towels. - KIT - A strong and warm sleeping bag (-10 degree centigrade) equipped with a hood. I suggest (-10 degree centigrade) sleeping bag because high altitude might change feeling more coldness than real temperature. - Water bottle 2L
- Hiking poles
- medical kit (medicines are not easy to get on the trekking trail)
- torchlight with spare batteries.
- A duffel bag or rucksack (75 to 85L). Note: - If you manage to carry equipment as much as the above list then for per person it is 10 to 12kgs of weight to carry. Standard trekking equipment can be purchased in Kathmandu. Down sleeping bag and jacket can be rented in Kathmandu. It will be better if you're able to keep your baggage under 15kg each person. The Airlines allow maximum 15kg baggage (including handbag 5kg) each person.
GET GEAR NOW
ALTITUDE SICKNESS
If you've done a lot of training, walking, running or climbing or you're used to high altitude climates, it will be a big advantage for you. However, you will be doing acclimatization training with your guide before you head to Gokyo Lake via EBC trip. Nepal Himalayas are famously talked about for its beauty but no one really talks about the high altitude headaches and sicknesses. There are different types of sicknesses and should know about them and their symptoms before heading to the mountains. There are 3 types of Altitude Sickness; Acute Mountain Sickness (AMS) can develop at any altitude over 3000 meters in the Nepal Himalaya. HAPE: High Altitude Pulmonary Edema (Lung problem associated with water in the lung) HACE: High Altitude Cerebral Edema (Mental or psychological problems associated with the presence of water/fluid in the head) Causes of Altitude Sickness: - Less oxygen than at lower altitudes
- Low barometric (climatic) pressure
- Rapid ascent (too fast)
- Possible dehydration
- Hypothermia (chilled)
TREKKING TRAILS AND TERRAIN
The trekking trails in Nepal are quite varied. It ranges between wide, road-like avenues to narrow slippery paths. In many places the trail edges are severe, a fall from there can be fatal. One must pay attention to their steps at all times. Be especially careful not to move around while looking through the viewfinder of your camera or are distracted in some other manner. Sometimes your routes will become confusing and you may take a wrong path. If you are tried as one often is at an altitude or after a long day, there is a great temptation to try to climb up or down a steep hillside to regain the correct trail. Several people have died from a long fall while trying to do this and others have been seriously and painfully injured. Retrace your steps to find the correct path rather than moving cross-country. It's necessary to have good footwork, especially over the rocks. In case of bad weather strikes, never stay in the open because you might risk hypothermia. The guide will lead you with careful precautions of avalanche risks after snow blizzards etc. Safety is your first priority. This was the best trek I could have ever done. It was completely beyond my imagination. After 4, once we reached the tea houses, we had time to interact with the different trekkers and travelers who were all from different cultures. I met people from around the globe, a trader from Hong Kong to army personnel from Israel and scientists from Germany and of course the localities, the Nepalese. They were so warm and hardworking. Their nature is naturally peaceful and kind. They really take care of you as you're on your own there. Given a chance, I would definitely explore higher peaks, the ones with crevasses and ice climbing, basically with a higher difficulty level. I am still considering the Audens Cole or Chadar Trek or maybe the Sagarmatha Regions again. #loveformountains

CHECK OUR TREKKING RANGE
Related tags :