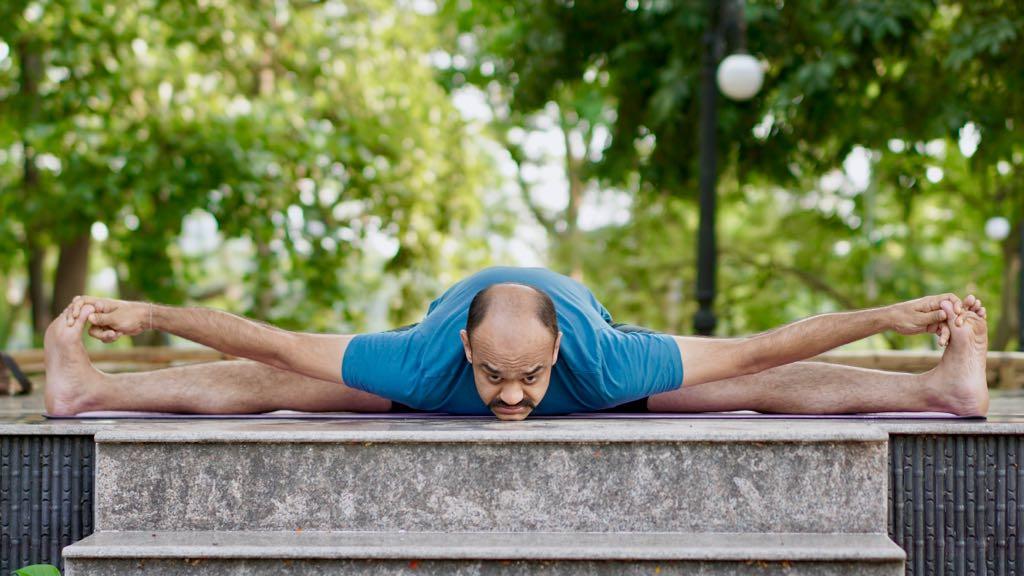 TOWARD HEALTHIER LIVING WITH YOGI KALPESH KAMDAR
Yoga can play a vital part in a person's daily activities as it not only improves body alignment and energy, it also gives clarity in mind, thoughts and a positive approach towards life.

KALPESH KAMDAR
Yoga Teacher
Kapesh is a 40year old resident of Kolkata. Born and bought up in a Gujarati Jain family, he's been involved in the family business of iron and steel pipe fittings (agriculture sector). Kalpesh has been practicing yoga for the last 6 years and tecahing for 3 years now.

FOLLOW KALPESH
Who or what inspired you to do Yoga?
As mentioned above, I belong to a Gujarati business community. Following a fit lifestyle is a thought that's really miles away. We love our food. Its sole purpose is to satisfy our taste buds and not hunger. Calorie count? What's that? Nobody in my family ever calculated that. This tradition definitely was inherited by me too until I received a jolt. My grandfather who was diabetic injured his feet and had to have his fingers amputated. This slowly led him to get completely bed-ridden and dependent. I was very close to him and always followed his footsteps in terms of my lifestyle. I was naturally taken aback by this incident as the doctors blamed his lifestyle and food habits for his health condition. I immediately joined a local yoga studio and started noticing as well as loving the changes in my body and my energy level. Practicing yoga became a routine for me. With regular practice, I was able to achieve difficut postures. Soon my liking toward the sport turned into a passion. After 3 years of practice in the same studio, I decided to do a TTC myself and with the blessings of my Spiritual Guru Dr. Rakeshbhai Jhaveri (founder of Shrimad Rajchandra Ashram Dharampur), I went to Ashtanga Yoga Mysore for a 200 hrs Ashtanga Yoga Course. On my return, I started teaching a small group of runners twice a week and they really benefited from the sessions. Right now, I'm teaching almost every day at different studios during the morning and doing my business during the day. In the evening, I do my self-practice.

Do you think Yoga is important? (In daily life)
Yoga can play a vital part in a person's daily activities as it not only improves body alignment and energy, it also gives clarity in mind, thoughts and a positive approach towards life.

How does yoga help with other sports?
Every sport is different as far as body development and needs are concerned. Every sport has certain injury issues related to different body parts, be it wrists, knees, back, shoulders to name a few. Yoga, if adopted with a preventive approach to every sport, will give a player extended playing lifespan because it will reduce injuries and improve the performance.

When did you first realize you wanted to do become a yoga teacher?
Benefits from yoga (asanas, pranayama, and meditation) are immense. I went to TTC (Teachers Training Courses) to increase my knowledge and improve my self-practice. Honestly, teaching was not in my plan but I was lucky to get a bunch of fit runners as my first batch and all of them felt the benefits. I enjoyed teaching and that served as a motivation to explore the depths of teaching yoga.

What did you do next?

As I mentioned above, after training runners, I got motivated to help more people. I approached a few studios that dealt with Zumba, Dance etc and they were convinced with the idea of utilizing their space for yoga and like that, it gradually picked up.
What type of yoga you have the most experience instructing?
I am a certified Ashtanga yoga teacher, so I teach primary series as it is called. It consists of 71 asanas in a flow (a bit modified version so everyone can adopt). I also take hip opening, back bending, warrior sequences, and core and back strengthening sessions. I also take Pranayama sessions.
How important is meditation to your Yoga practice?
We typically associate sitting in a lotus posture to be meditation but for me, even when a person is listening to a beautiful song with their eyes closed and with concentration, they are in a meditative state. Asanas help us focus and transcend into a calmer state of mind. Normally, after every session of self-practice, I am in a meditative state for at least 15 minutes.
How do you structure your days?
My day starts at 5 am in the morning with prayers. I take my classes from 6:30 am to 7:30 am. I usually take one or two classes per day. I leave for my office at 9:30 am and return by 7:00 pm post which I practice yoga for an hour, have a light dinner, spend some time with my family and head to bed by 11:00 pm.

How do you manage work, family and practice?

Weekdays are hush-hush, I spend little time with family at dinner and post-dinner. But during Sundays, it's always family outings and fun. I have a daughter who is in her 9th standard. I am thankful to have such a supportive wife and parents, towards whom I have responsibilities, but they have always backed my passion.
Do you follow a diet?

Born in a Jain family, I have always been a strict vegetarian and since last the 5 years, fried food and sweets have taken a backseat. I prefer timely meals and healthy snacks/fruits in between.

What are some of the challenges you've experienced as a Yoga Teacher?

Not coming from a yoga background, students were initially hesitant to start classes with me. Normally the ratio of female teachers is higher so for a 37-year-old man, acceptance was a little low in the beginning. That for me was a challenge. Gradually after a few sessions, the word of mouth had gone out things started working out.
How do you build relationships with your students?

In yoga, a teacher-student relationship is very pure and that of mutual respect. The teacher helps a student grow and the respect is earned by the teacher by addressing the students problems. For example, if a student has certain health or stress-related problems which can be solved yoga, the teacher should be able to give his/her full effort in working toward the solution. But if the problem is beyond the spectrum, the teacher shouldn't give false hopes and wrong solutions. This really helps to develop trust and faith among the students
Has the practice of Yoga picked up in Kolkata?
In Kolkata, the awareness is gradually picking up but even today people are satisfied with one-to-one sessions from teachers who are probably not fully qualified to teach and are happy only with improved flexibility. But true awareness comes when a practitioner realizes all the benefits that yoga can offer which can be achieved in a proper group session with a qualified teacher. It is a completely different feeling or experience that has multiple advantages. I want to raise this kind of awareness that monetarily
people consider yoga to be the cheapest form of workout but it's important to realize what a good teacher brings to the plate with his/year years of experience.
What equipment do you find indispensable to your practice and what's next for you?
Apart from my yoga mat which is indispensable, a yoga block and a belt are also very important for adjustments and alignment. Knee cushions are a good product for people with knee issues. I would like to do my 300hrs TTC to complete my 500hr program and maybe have a yoga studio or yoga school of my own someday.

CHECK OUR RANGE OF YOGA EQUIPMENT
Related tags :